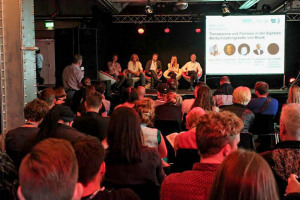 After the great success of the "Digital Dialogue" in 2014, this year we are again organizing an event in Berlin to discuss issues and topics, which have a lasting effect on the daily business of artists and their representatives. This event is a cooperation of the IMMF and it's German member organisation IMUC.

When? Fr, June 17th 2016 (11:00 – 19:00)
Where? YouTube Space @ MET Film School, Oberlandstraße 26, 12099 Berlin
Registration link: http://goo.gl/forms/is3UyUOQAk
Agenda
10:30 – 11:00 Registration and Coffee
11:00 – 11:10 Welcome Speech
Speakers: Mounira Latrache (Google), Volker May (IMMF), Wolfgang Weyand (IMUC)
11:10 – 11:30 Opening Think Piece (10 Years Outlook)
Speaker: Jake Beaumont-Nesbitt (IMMF, Acme Rights)
Streaming the second decade, YouTube was ten in 2015, Spotify turned ten in April 2016, the new "access" music business model is still developing, but consumers have embraced it, and it's here to stay, what are the issues for the next ten years?
11:30 – 12:30 Marketing Panel: Old School vs. New School
Speakers: Johannes Thomsen (Kulturmedien/Ströer), Natalia Talayero (BeLoud), Thomas Harsman (Visions Magazin), Moderator: Olivier Toth (IMMF, Rockhal Luxembourg)
Are pre-digital marketing strategies still relevant. Think about old school posters on walls, flyers distributed to queuing gig goers, and one automatically mentions Facebook posts, and Mailchimp emails. If one mentions the decline of music programming from mainstream TV and even from MTV the conversation turns to YouTube. This panel will explore physical and digital strategies, and ask if they can be complementary, and where artists should focus scarce resources like time and money.
12:30 – 13:00 Learn, Create, Connect – YouTube Space Berlin
Speaker: Tom Dreiseitel (Google), Molly Mönch (Audiolith)
Find out more about the concept, the production facilities and equipment available at YouTube Space Berlin. We will be joined by a special guest from the music industry who will talk about their first-hand experience using the YouTube Space Berlin and how it benefits their artists.
13:00 – 14:15 Lunch Break
13:45 – 14:45 Start-Up Panel
Speakers: Martin Guérin (Paris&Co), Daria Wabnitz (The Jooles), Moderator: Olivier Toth (IMMF, Rockhal Luxembourg)
What can the music business learn from startups?
14:45 – 15:45 YouTube for Artists
Speaker: Tom Dreiseitel (Google)
YouTube attracts an audience of a billion people around the world. It allows them to distribute and promote their music globally, to grow their fanbase and connect with existing fans, and combines discovery and money opportunities. Hear about the most artist relevant features and resources like Content ID which enables efficient control for rights holders of their content.
15:45 – 15:30 Live Industry
Speakers: Dr. Johannes Ulbricht (BdV – Bundesverbands der Veranstaltungswirtschaft), Olaf Möller (Berlin Clubcommission), Moderator: Volker May (IMMF, FZW Dortmund)
The recording industry shrunk, advances have dried up, the live music sector is having its greatest ever period. Why won't they invest in artists? Or do they?
16:15 – 16:30 Break (Coffee/Networking)
16:30 – 17:30  Data Panel
Speakers: Gerrit Winterstein (The Hook), Stefan Wittich (MusicDNA), Timo Wailersbacher & Thomas Fischer (etix), Moderator: Jake Beaumont-Nesbitt (IMMF, Acme Rights)
What Data is available, how can it be used to develop audiences, identify partnerships, and raise finance?
17:30 – 18:00 European Harmonization
Speakers: Dr. Eberhard Kromer (DOMUS, SKW Schwarz), Moderator: Jake Beaumont-Nesbitt (IMMF, Acme Rights)
Brussels is exploring copyright reform, a European digital single market is on the agenda, and harmonisation of rules and supply chain methodologies could simplify or "disrupt" the business. Is harmonisation a dream or a deliverable artist supporting agenda.
18:00 – 18:05 Closing Remarks
Speakers: Volker May (IMMF), Wolfgang Weyand (IMUC)
18:05 – 18:55 Networking
19:00 Official End