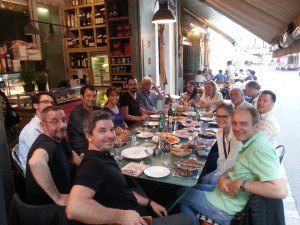 The IMMF waved its flag at Midem 2015 in Cannes, France. Like in the last years we hosted several events incl.
_ two "Meet the Managers" sessions
_ a Panel under the title "Artist Managers as Entrepreneurs"
_ the IMMF Council Meeting
_ an informal Dinner.
We want to thank Midem for the smooth cooperation, Radisson Blu Hotel for providing the conference room for the Council Meeting and last but not least all our old and new friends for attending the events and making them a success!
Photo: In gleeful anticipation of some really good food after a long business day.
F.l.t.r: Olivier Toth (Luxembourg), Didier Zerath (France), Laszlo Kelemen (Hungary), Jake Beaumont-Nesbitt (UK), Emily White (US), Nuno Saraiva (Portugal), Stephen Bond Garvan (US), Natalia Talayero (Spain), Cecile Torp Holte (Norway), Eivind Brydoy (Norway), Ron Stone (US), Brian Hetherman (Canada), Daria Wabnitz (Germany), Volker May (Germany) // Also attending, but not on the photo: Andy Edwards (UK), Dr. Eberhard Kromer (Germany)
Short description of the Panel
The creative community has never been so productive, while it has never been more difficult for projects to get signed. In today's competitive creative markets, are artists' managers in charge of artists' development? Are we witnessing a transfer of risks, both entrepreneurial and financial, towards the manager? Are managers the new entrepreneurs, setting up and managing labels, publishing companies, organising tours for up-and-coming new acts? This session will spotlight the new challenges that the artists' managers are facing in this new 360° business model.
Speakers:
_ Ron Stone, President of Gold Mountain Entertainment (USA)
_ Emily White, Co-Founder & Manager of Whitesmith Entertainment (USA)
Moderator:
_ Didier Zerath, President of AMA (France), IMMF treasurer